28
Sep
Moving Beyond Biglaw As A Single Mom Of Twins With Jessica Medina (TFLP 059)
Jessica Medina went to law school thinking she would work for the government and change the world for the better. But during her 2L year at Columbia Law School, she gave birth to twins and became a single mom. Biglaw seemed the inevitable and obviously correct choice for her if she wanted her family to have a good life.
But after eight years in Biglaw, Jessica decided not to put herself up for partner and instead, to pursue a different career—which wasn't an easy decision.
In this episode, I'm sharing the first half of our conversation, where she talks about how she ended up in law school, and then Biglaw, and why she decided to leave.
Meet Jessica Medina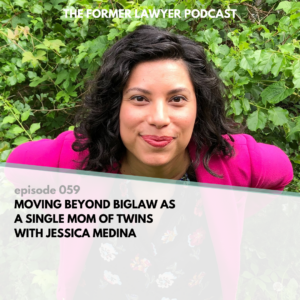 Jessica went to law school straight out of undergrad thinking that she wanted to work for the government and make the world a better place.
But when you attend a high-ranking law school like Columbia, it's very hard to resist the pull of a Biglaw job. And when Jessica became a single mom of twins during her 2L year, taking a Biglaw job seemed like the obvious choice.
She thought she would leave after just a few years, but fast forward eight years, and Jessica found herself being encouraged to put herself up for partnership in her firm. The problem was that although Jessica was deeply grateful for many things that her Biglaw job had afforded her, she knew it wasn't what she actually wanted to be doing.
Her twins were getting older, and she knew if she committed to being a young partner, she would be largely absent from day-to-day life in their tween years.
On the other hand, as a Latina and a single mom, she felt a responsibility to show others what was possible for those who are traditionally underrepresented in Biglaw partnership ranks.
Ultimately, Jessica shares, she chose herself, and her kids. She decided not to pursue partnership, and left Biglaw for a job at the SEC.
In this episode, Jessica shares about:
Being drawn to the law partly because of the theatrics of it.
Loving the idea of law school because she loved school, and more school sounded great!
The culture shock she experienced going straight from undergrad in San Diego to law school at Columbia, where she was surrounded by brilliant and accomplished people who had actual life experience.
Becoming a single mom of twins during her 2L year, and how that profoundly shaped her law school experience and beyond.
Feeling incredibly grateful to have her Biglaw job.
Planning to leave Biglaw after a few years for some sort of government job, but never pursuing the plan.
The moment she realized that Biglaw was not for her (it involves a less-than-enthusiastic response to a ruling on a motion in limine).
Why staying in Biglaw, even though she didn't really like it, was easier than leaving.
In the next episode, hear all about Jessica's time at the SEC, how she became a financial coach for Biglaw lawyers!
Connect with Jessica:
Mentioned in this episode:
For information about 1:1 coaching with Sarah for Biglaw lawyers, click here.