12
Oct
Valerie Beck: Left The Law For A Career In Chocolate (TFLP 061)
Valerie Beck felt like she didn't fit in from the moment she arrived in law school. After several Biglaw jobs and an in-house gig, she decided law was truly not the place for her and decided to forge her own career path in the world of chocolate.
Nearly 20 years ago, she started a business providing chocolate tours to people in her hometown of Chicago. She now runs her own business as a branding and marketing consultant to small-batch chocolate producers.
Meet Former Lawyer Valerie Beck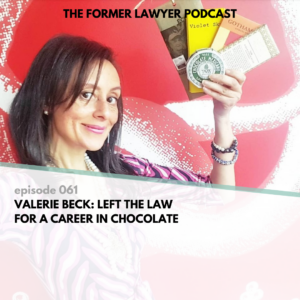 Valerie went to law school because she wanted to make an impact and help create a more just world. But she found law school to be a harsh place where most people were focused on making money. She was so unsure whether law was right for her that she took a two-year hiatus from law school, but ultimately decided to return.
After a series of events landed her in Germany post-graduation, she struggled to find the type of legal job she wanted. Valerie ended up working for a big law firm, and when she moved back to her home city of Chicago, she got a job with another big law firm.
Valerie knew that she didn't want to continue in law forever and started exploring building a business related to one of her great loves—chocolate. She first moved in-house in hopes that she would have more time to build her business on the side. Eventually, she was able to find a contract gig ghostwriting content for a large law firm's website, which covered her financially while she got her business giving chocolate tours of Chicago off the grounds.
The tour business grew organically and expanded into several cities. When that business closed due to a series of awful events, Valerie took her love for chocolate in a new direction. She leveraged her many relationships and contacts in the world of chocolate to help small-batch producers find a place in the American chocolate market through her now 5-year-old company, Chocolate Uplift.
In this episode, Valerie shares about:
Being taught growing up that she could be anything (with an asterisk—anything being a doctor or a lawyer!).
Feeling guilty about not loving law school because she went to Harvard, which is the dream for many.
Finding law school extremely harsh, and Biglaw even more so.
How disillusioned she was by the flagrant disrespect for women and minorities in Biglaw.
All about "murderers' row" a/k/a the 46th floor of her Chicago law firm, where a bunch of male partners that were known screamers officed.
The serious impact Biglaw had on her health.
Why she left Biglaw for a smaller firm—and how it turned out to be even worse.
How important it is to remember that money is just one piece of the picture (but also, she made more as an entrepreneur than she would have as a lawyer!).
Connect with Valerie:
Mentioned in this episode:
Listen to this episode on: