5
Oct
Jessica Medina: From Biglaw To The SEC To Financial Counselor For Biglaw Lawyers (TFLP 060)
In episode 059, Jessica Medina shared all about how she ended up in law school, and then Biglaw, before deciding to leave to take a job at the SEC.
In this episode, Jessica shares about how she realized after making the move to the SEC that it wasn't just Biglaw that she didn't enjoy—she didn't enjoy being a lawyer. She explains all about how she made a plan to get out, and how she figured out what she wanted to do next—financial counseling.
Meet Jessica Medina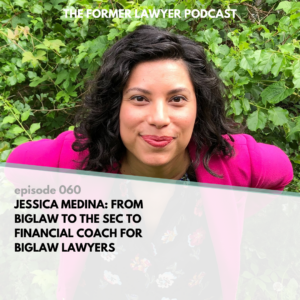 As a single mom of two, Jessica rose through the ranks at her Biglaw firm before she decided that she didn't want to put herself up for partner. She left to take a job at the SEC, only to discover once she was there that it wasn't just Biglaw she didn't enjoy—she didn't enjoy being a lawyer.
Fortunately, her job at the SEC afforded her much more free time than her previous job in Biglaw. With her newfound free time, she developed an interest in personal finance and created a plan to leave the SEC for another career.
At first she thought she might like to work in career services. But when she actually looked into it, the details of the work were not very interesting to her.
She didn't even consider that her interest in personal finance could be the key to her new career path. Then her husband, a military veteran, went to a meeting with a financial counselor as part of the process of retiring from the military.
The counselor was impressed with the spreadsheets Jessica had put together to plan their finances, and asked her husband if Jessica had ever considered being a financial counselor. When he relayed this message to Jessica, she immediately knew it was the path for her.
In this episode, Jessica shares about:
Two of the best things about leaving Biglaw.
Trying to reframe her early desire to be a prosecutor and reform the system from the inside to fit her current reality when she went to the SEC.
Realizing pretty quickly, "Oh my god, i don't even like practicing law—NOW what am I going to do!"
Learning about personal finance and her love of spreadsheets.
Realizing that she didn't have to remain a lawyer forever if she made an actual plan.
How she developed her long-term plan to leave the law.
"I have a prestige problem;" how caring about prestige made leaving the law difficult.
The importance of having people in your life who are NOT lawyers.
Thinking she might like to do career counseling—but feeling more and more meh about it as she looked into the details and got more information about the day-to-day.
Trusting your gut vs. reasoning through something.
Becoming an Accredited Financial Counselor with the AFCPE.
Why lawyers in Biglaw often have very different financial needs than what most of the personal finance industry teaches.
Connect with Jessica:
Mentioned in this episode:
For information about 1:1 coaching with Sarah for Biglaw lawyers, click here.